V Turbo
GRINDING PRINCIPLE
Material is ground by the mechanical impact as well as vortex airstreams generated between the rotating disc and the static liner. Product size can be adjusted by changing rotor speed of the built-in classifier. This mill can grind heat-sensitive materials without damage, as material grinding takes place in airflow and generated heat is cooled down by it.
❖ MACHINE STRUCTURE & MATERIAL FLOW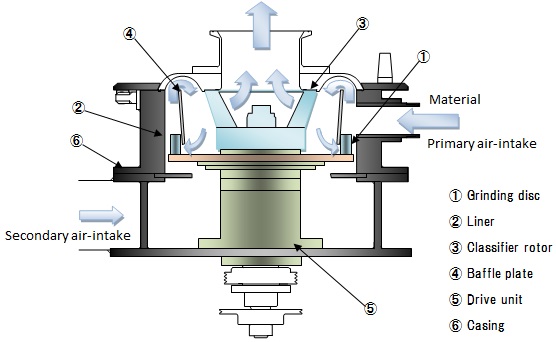 CHARACTERISTICS
Simple machine structure
Easy dismantling of grinding & classifying parts
Suitable for applications that need frequent product changes

❖ Photos of machine dismantling steps ❖

Waterproof design.
Frequent product change is possible by easy machine cleaning with water.

Wide range of applications
This mill can cope with various materials and different product sizes by selecting suitable grinding tools.


Sharp product particle size distribution 【Target product size: D:50 = 8 to 200 micron meter】
Efficient production is possible avoiding excessively fine part by high performance classifier.


❖ APPLICATION EXAMPLE (By V Turbo model VT300)

---



Optional specification for grinding camber made in ceramic (C series)

New!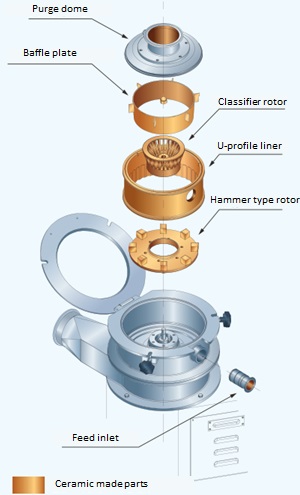 ※Suitable for grinding of abrasive materials avoiding metal contamination.
    Ceramic made parts are interchangeable with standard metal made parts.
    ※Available ceramic sorts
    ・Silicon nitride (High mechanical strength, light weight, high heat conductivity)
    ・Zirconia (High mechanical strength)
    ・Alumina (Low costs)
STANDARD SYSTEM FLOW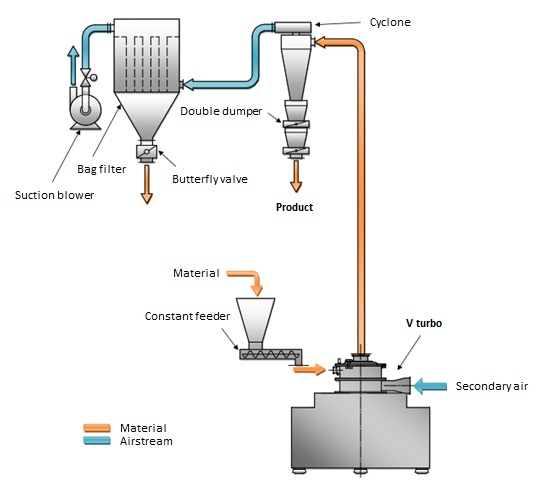 APPLICATIONS
Foods: Starch, edible color, Sugar, Salt, Bran, Defatted soybean, Rice, Buckwheat, etc.
Pharmaceuticals
Chemicals: Powder coating, Silica, Pigment, Battery material, Resin, Cellulose, etc.
STANDARD SPECIFICATIONS
Model
VT-300
VT-400
Grinding disc
Max. rotation speed
(r/min)
9,000
7,100
Motor (kW)
11
22
Tool type
Hammer,Pin,RS
Hammer,Pin,RS
Classifier rotor
Max. rotation speed
(r/min)
Max. 7,300
Max. 6,000
Motor (kW)
2.2
5.5
Rotor type
Vertical blades with top ring
Vertical blades with top ring
Liner
Liner profile
U-groove,V-groove,RS-groove
U-groove,V-groove,RS-groove
Required air volume(m3)
18
30
Comparative throughput ratio
1
2
TEST IMPLEMENTATION PROCEDURE
Upon receipt of customer's application forms with the test details we will discuss their present problems so as to achieve the aimed test results by proper selection of test machines and its operation conditions.
info@freund-turbo.co.jp