GRANULATION
Custom processing
We undertake custom granulating using our own made granulating machines and the know-how gained by years of experience.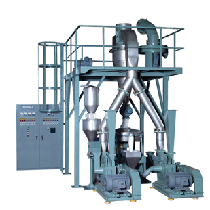 We are willing to help you for your development of new products or their production start-up.
Our well-experienced staffs specialized in various powder processing machines and production using such machines are available to meet requirements from small production volume for the research to large scale production. We can accept chemical products in general excepting pharmaceutical and food products.
Strict quality control
For custom processing service we have a special factory having independent booths for each process and also we clean the entire production system thoroughly to avoid the risk of contamination at a time of product changeover.
Granulation
Granulating system we use.
We use our dry granulating machine "Roller Compactor" for custom granulating service.
This machine can firstly make flakes from powder-like materials not using any binder but only by compressing them with rolls, and secondly crash these flakes roughly and further size down to aimed granules. Granule size and hardness can be selected according to the customers' requirements.
(The machine can be adjusted to meet required products like ribbon shaped ones, roughly broken ones or granules.)




Major application purposes
Dust prevention, Fluidity improvement, Bulk density improvement, Volume reduction, Moisture absorption prevention Extrusion pre-treatment, Solubility improvement, Calcination pre-treatment, etc.


Applicable material sorts
Iron oxide, lead oxide, Silver oxide, battery materials, Ferrite, magnesium oxide, Titanium oxide, Manganese oxide,
Molybdenum alloy, Silica, Carbon, Melamine resin, Phenol resin, Epoxy resin, Polycarbonate resin, Fluorine resin,
Resin additives, Over-crushed fine toner, CMC, Pigment, Fertilizer, Animal feed, Incineration ash, etc.
N.B. : For slippery materials or materials with low melting/softening point there may be a case that cannot be granulated.
To Other Custom Service