GRINDING MILL
Custom processing
We undertake custom grinding using our own made grinding machines and the know-how gained by years of experience.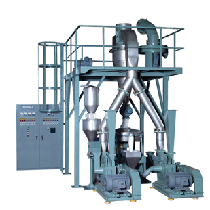 We are willing to help you for your development of new products or their production start-up.
Our well-experienced staffs specialized in various powder processing machines and production using such machines are available to meet requirements from small production volume for the research to large scale production. We can accept chemical products in general excepting pharmaceutical and food products.
Strict quality control
For custom processing service we have a special factory having independent booths for each process and also we clean the entire production system thoroughly to avoid the risk of contamination at a time of product changeover.
Grinding Mill
The grinding system we use.
We use our grinding machine "Turbo Disk Mill Grinding System" under room temperature for custom grinding service.
This system can grind heat-sensitive thermo-plastics in room temperature without melting problem.
The ground products have few whiskers and their particle shape is quasi-round, which makes good fluidity and favorable bulk density.


Major application purposes
Rotation molding, Fluidized bed coating, Electro-static coating, Mixing pre-treatment, Molding pre-treatment,
Fluidity improvement, etc.


Applicable material sorts
For thermo-plastics in general to be ground from coarse down to under 250μm size.
Resin pellets or granules: HDPE, LDPE, LLDPE, PET, PC, h-PVC, ABS, etc.
N.B. : As resin materials containing inorganic filler or pigment cause high degree of wear-out on grinding tools, we accept only neat resin materials.

To Other Custom Service