CLASSIFIERS
Custom processing
We undertake custom grinding using our own made classifying machines and the know-how gained by years of experience.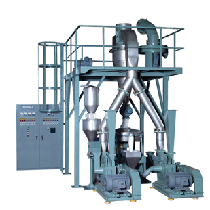 We are willing to help you for your development of new products or their production start-up.
Our well-experienced staffs specialized in various powder processing machines and production using such machines are available to meet requirements from small production volume for the research to large scale production. We can accept chemical products in general excepting pharmaceutical and food products.
Strict quality control
For custom processing service we have a special factory having independent booths for each process and also we clean the entire production system thoroughly to avoid the risk of contamination at a time of product changeover.
Classifiers
Classifying system we use.
We use our high performance continuous centrifugal sifter "Turbo Screener" or product-friendly jet-air back-washing sifter "Gyro-jet screen" for our custom classifying service.






Major application purposes
Foreign material elimination, Coarse particle elimination, Aggregates disintegration, etc.


Applicable material sorts
Alumina powder, Graphite, Lithium compounds, Cobalt compounds, Spherical silica, Battery materials, WC powder, Ground calcium carbonate, Talc, Nickel powder, Metallurgical silicone, Copper powder, Silber powder, Polycarbonate resin, Epoxy resin, Phenol resin, Calcium carbonate, Aluminium hydroxide, Synthetic rubber, Powder paint, Wood powder, etc.
N.B. : For materials containing high fat or water content(over 20%) or separation point under 30μm there may be a case that cannot be classified.
To Other Custom Service